During the online seminar, Japanese colleagues could share their experience in regional education. Professor Ohno presented about online education in middle schools, located in remote rural areas in the north of Hokkaido. Associate Professor Yoshihiro Sakita showed an exercise program for developing physical and motor skills of students in elementary schools in Sapporo. Professor Miyazaki made a presentation on ​"Review of Hokkaido Educational Consortium's Plan".
Professor from Ural State Pedagogical University Natalya Vasyagina, Ph.D. in Psychology made a presentation on ​"Current Trends of Psychological Service Activities in Education System of Sverdlovsk Region". Professor Evgenia Kazaeva, Ph.D. in Pedagogy, told about the experience of the region in training of specialists for working with children, having special educational needs. Professor Roman Porozov, Ph.D. in Culturology, presented about reviewing international cultural and educational projects in Ural State Pedagogical University.
Elena Afanasenkova, Associate Professor of the Department of Psychology in Sakhalin State University, Ph.D. in Psychology, offered to study the problem of professional training and self-realization in the work of educationalists and educational psychologists jointly. Svetlana Pronkina, Associate Professor of the Department of Physical Culture and Sport in Sakhalin State University, Ph.D. in Pedagogy, took the initiative of holding cross-cultural research of psychophysical peculiarities of child development (at ages 10–11) in one of Sapporo's schools and School №6 in Yuzhno-Sakhalinsk to compare the results afterwards. Lyudmila Rumyantseva, Associate Professor in Sakhalin State University, Ph.D. in Pedagogy, offered to conduct a research on pedagogical health, saving resources on educational process support, jointly with colleagues.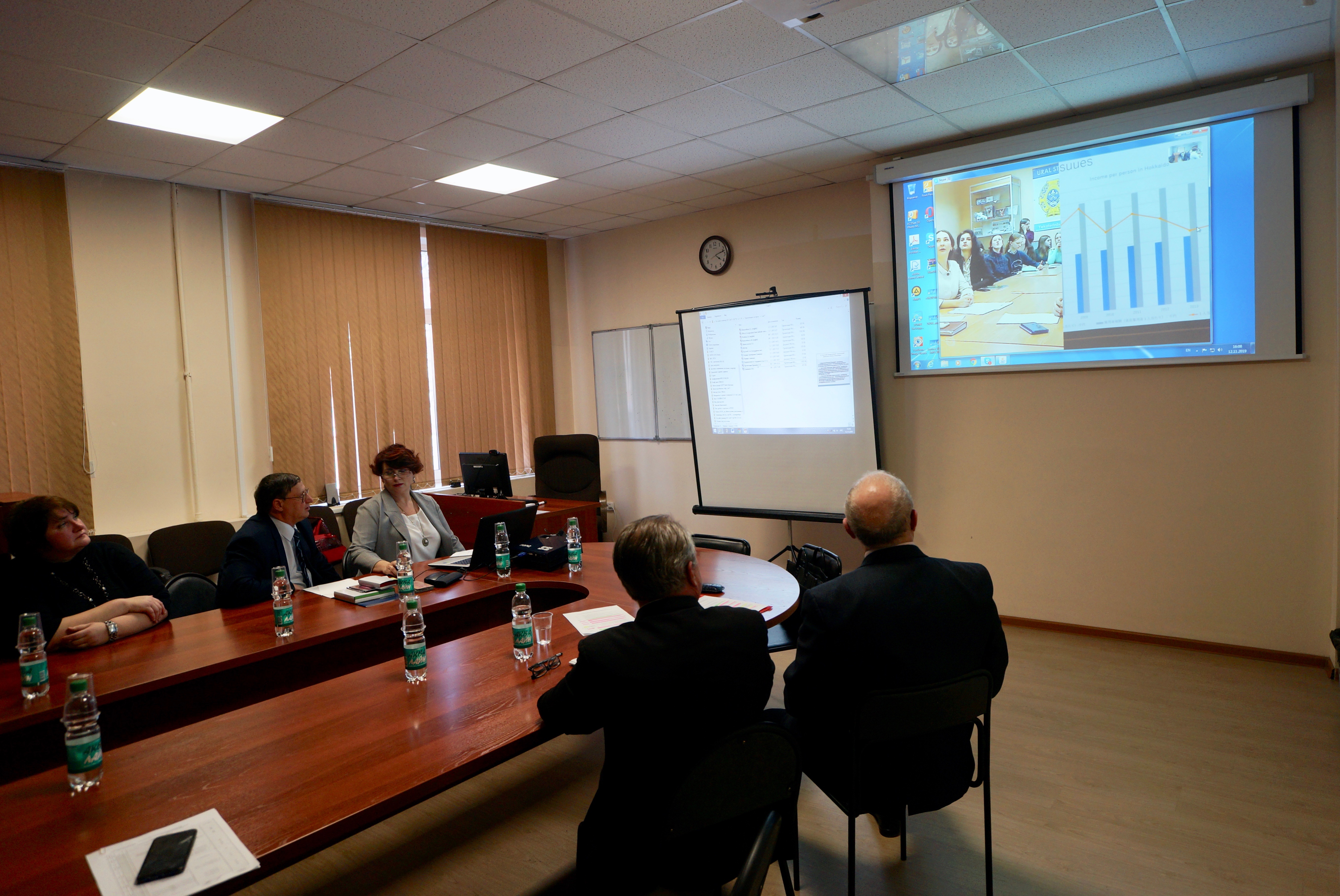 Such jointly conducted research examples can allow more room for studying the influence of developing and educational methods on self-development and social awareness of students, their physical health; defining the professional growth factors for pedagogical workers in the field of education and comparing the results of cross-cultural research in order to find general trends and differences.
Trilateral cooperation of the universities with the help of holding an online seminar started due to similar problems in the field of psychological and pedagogical education considering regional peculiarities. This in particular refers to remoteness from central part of Russia (Yuzhno-Sakhalinsk) and Japan (Sapporo), lengthy regional center and its remoteness from regional center's subjects (Yekaterinburg – Sverdlovsk Region) and a need of active development of distance learning-based educational forms. Joint and active debate has resulted in finalizing a preliminary plan of further interaction between Hokkaido, Sakhalin and Ural universities.
At this stage of cooperation, universities are discussing further interactions between each other. Joint efforts are put into improvement of technical communication quality for holding more online-seminars on exchanges of experience in psychological and pedagogical research. Inviting professors from the universities for holding lectures and seminars is planned as well.
Successful cooperation of Sakhalin State University with Hokkaido University in the field of student exchange-related educational programs is due to Office of International Affairs with Viktor Korsunov (Assistant Professor, Ph.D. in Pedagogy) in charge. Cooperation agreement with Ural University was initiated by Elena Afanasenkova, who is the inspirator and organizer of trilateral online seminar as well.
– On March 28, 2019 I organized a meeting for Japanese colleagues – Assistant Professor Otani Kazuhiro and Professor Jun Moriya from Hokkaido University – in the Institute of Psychology and Pedagogy within their seminar on motivation for education, where we shared ideas and contacts. Later in June Natalya Vasyagina and I went to Sapporo (Japan) where we had the same meeting, initiated by Professor Keiko Ikeda, with Japanese colleagues in Hokkaido University about possible cooperation. After that we had intensive trilateral correspondence, and the first online seminar within the new project is the main result. – Elena Afanasenkova said. – We hope that this first sample of trilateral cooperation will result in fruitful and long-term cooperation between our universities!